Article by Phoenix Business Journal

Andy Blye
– Reporter (8/2/2022)
The pandemic-induced computer chip shortage continues to propel Valley chipmakers, including Onsemi, Microchip and Amkor — all of which reported record revenue levels this week.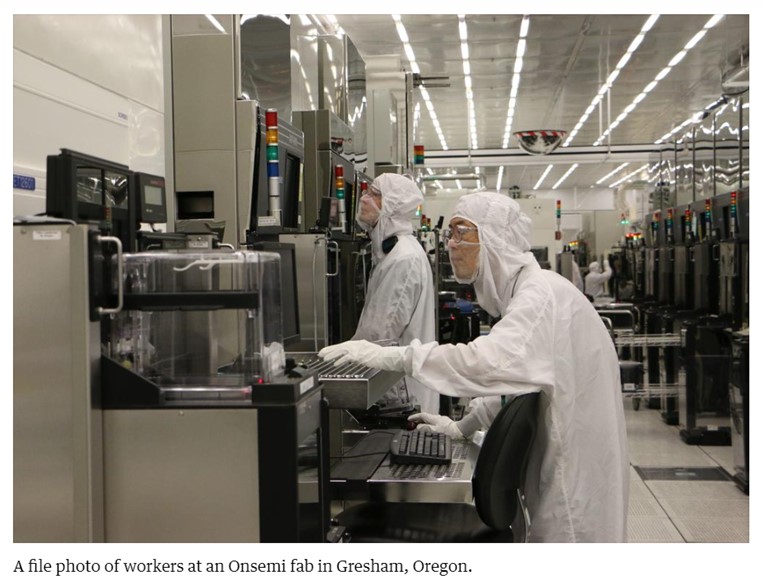 Onsemi (Nasdaq: ON), Microchip (Nasdaq: MCHP) and Amkor (Nasdaq: AMKR) each reported quarterly earnings that contained record-setting sales, a trend that started early during the Covid-19 pandemic as demand for electronics spiked.
Chandler-based Microchip reported record first-quarter revenue of $1.96 billion for its first quarter of fiscal year 2023, which ended on June 30. This figure is a 25.1% increase from the same period last year and in line with analyst expectations for the quarter.
These results, reported on Tuesday after the market closed, marked Microchip's seventh consecutive quarter of record revenue.
Ganesh Moorthy, president and CEO of Microchip, described the current semiconductor market as having a "historic and persistent imbalance between supply and demand."
"We expect to remain supply constrained through the rest of 2022 and into 2023," he said during a call with analysts. "Demand continues to be insatiable, despite the capacity increases we have implemented so far."
Microchip shares are down about 21% year-to-date. Click here to follow the stock.
Semiconductor companies got a boost last week after the Chips and Science Act passed both chambers of Congress. The bill, which includes $52 billion to boost domestic semiconductor production, has been working through the legislative process for more than a year and was signed into law Tuesday by President Biden.
Moorthy said they expect to benefit from the investment tax credit and grants in the future, but it's still too early to know exactly how much Microchip would benefit from the legislation.
"This bill is good for the semiconductor industry and for America, as it enables critical investments, which will even the global playing field for U.S. companies," he said.
Arizona Senators Mark Kelly and Kyrsten Sinema both backed the bill, as did all of Arizona's Democratic House representatives. All the state's Republican House members voted against the legislation.
Arizona's business and education leaders expect that some of the bill's funding will make its way to the Valley and foster further growth in the industry.
Onsemi, Amkor also report earnings
Onsemi reported record revenue on Monday, exceeding $2 billion in quarterly revenue for the first time for its second quarter. This figure also marked an increase of 25% from the same quarter last year.
Onsemi, which is currently based in Phoenix, will soon be relocating to a new office up the road in Scottsdale.
"These financial results validate our momentum in the market and the differentiation of our intelligent power and sensing solutions," Onsemi president and CEO Hassane El-Khoury said in a statement.
"Our leadership in the accelerating megatrends of vehicle electrification, ADAS, energy infrastructure and factory automation have enabled us to extend long term supply agreements and increase demand visibility."
Onsemi stock is down about 5% year-to-date. Click here to follow its share price.
Tempe-based Amkor, which offers semiconductor packaging and test services, reported record Q2 revenue of $1.5 billion for the three months ended June 30. Like Onsemi, Amkor attributed its success to the strength of the automotive market.
"Demand for advanced packaging solutions remained strong and drove our Automotive & Industrial end market to 16% year-on-year growth and a new record," Amkor president and CEO Giel Rutten said in a statement. "We have returned to normal output levels in Shanghai after a government mandated COVID-19 lockdown, and our global factory network is prepared to support the growth expected in the second half of the year."
Amkor's share price is down about 16% year-to-date. Click here to follow the stock.